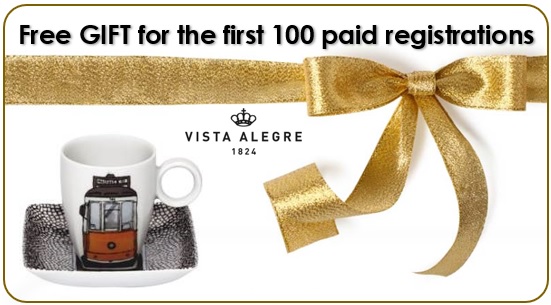 The first 100 paid registrations at the EOQ Congress 2019 will receive a Vista Alegre piece as a gift.
Founded in 1824, the Vista Alegre Porcelain Factory was the first industrial unit dedicated to producing porcelain in Portugal. Vista Alegre is more than a mere industrial unit. It is also part of the Portuguese heritage, boasting buildings of undeniable architectural interest, and a repository of social and artistic memories essential to the building of a Portuguese identity.
Given the changes that we are all facing, this is a time for quality professionals to rediscover what quality means today in different parts of the world, types of organizations and sectors of activity. Come to Portugal, a country of many discoveries, and participate in this unique learning and networking opportunity.
Do not miss the 2019 EOQ Congress, and the opportunity it will provide to celebrate quality, as well as the 50th anniversary of the Portuguese Association for Quality (APQ), but also to participate and anticipate the definition of the Quality Future, by Rediscovering Quality in Lisbon.
Book the dates right now and pre-register to benefit from discounts and keep receiving additional information about this unforgettable event in 2019, the third time that Portugal is hosting the EOQ Congress, after having done so back in 1985 and 1994.
Come to Lisbon, in Portugal, where we will be Rediscovering Quality with your participation!
This congress is being organized by APQ – Portuguese Association for Quality.
Organizing Committee:
Francisco Frazão Guerreiro (Chairman, APQ President)
Pedro Saraiva (APQ Vice President)
Paulo Sampaio (University of Minho)
Torolf Paulshus (EOQ President)
Patrick Mongillon (EOQ Vice President)
Zoran Lekic (EOQ Honorary Member)
Fernando Reis (APQ Secretary General)